Good news!
VeganMoFo
is coming back this year in November. I am super excited and can't wait to take part. Planning is afoot! Anyway, let's talk Thai food.
Earlier this year a new Thai place,
Khot Thai
, opened up just up the road from work. Thai isn't always the most vegan friendly, full of shrimp paste and fish sauce lurking in places that can't always be taken out of the dish, but when I had a look at their menu I was thrilled to see lots of little 'V' icons everywhere for things that could be made vegan! They also have lunch specials. So you know what followed, I have had a lot of Thai takeaway for lunch over the past several months.
The first thing I got was the Pad see Ew, one of my favourite dishes ever! Happy to report that it was great.
One day I got the Pad Thai and also some of their Fried Tofu with Peanut Sauce. The peanut sauce was delicious! Unfortunately the Pad Thai was super oily (though I have had it again when eating it and it wasn't oily at all, so maybe just a bad day).
The 'Perfect' is a sauce of coconut, shallots, onion, potato and sweet potato in a unique and tasty sauce. It was a little bit too heavy on the coconut and a bit too sweet, but was still nice.
I also got the yellow curry, which was nice and mild... though I've had it again and it was a bit spicier! Picutured here with a turmeric ginger latte and a juice.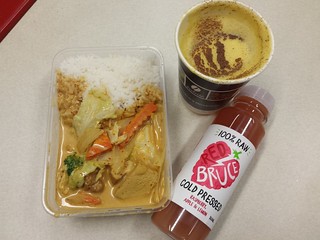 Here are some other things that my workmates have ordered... only the vegan things of course. But in fact I think no one ordered anything non-vegan from there for lunch at work, so that is cool.
Tofu Larb Salad.
Tofu Pad Kee Mao.
Vegan Curry Puffs.
Vegan O-Cha Rolls.
Khot Thai is great! Also lots of gluten free options, if that is what you are after. I have since been there to eat in, and also for an epic takeaway feast. And I am sure there are many lunches from there in my future as well. I love it!
Khot Thai - 257 Given Tce, Paddington, QLD - 3505 0360
I am off to Sydney in the morning for another round of OzComicCon. As always, I will be very busy with the con, but I have a few fun food times planned. The venue is also providing some vegan options for breakfast and lunch (same for the Brisbane venue next weekend), so I will report back. No more fruit salad for me!
Cute Kitty Photo of the Post
My little black lap kitty. Dim Sim has lost a bit more weight recently, so we are trying to up her appetite meds and feed her up. She gets her bloods checked in a couple of months to see how her kidneys are going.